Fruit Update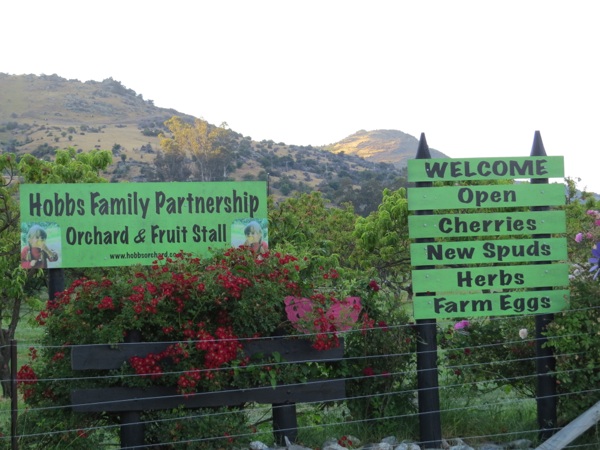 With the holidays upon us, remember to pack your togs for a splash at Pinders Pond after picking your own fruit or purchasing off the Fruit Stall.
Pinders is only 2 km down the road from us and even has a toilet these days.
No more ducking into the bushes!
Dawson cherries are now available on our Stall along with new spuds.
The cherries are in 1kg bags for $8.00 and the new spuds are 2kg for $5.00
Ruby also has a selection of grasses and herb plants for sale.
There is a great PYO cherry place in town should anybody want to pick their own.
Our apricots will be ready for PYO hopefully by about the 7th of January and from then on there will be fruit coming on at a fast rate.
Check our blog for daily updates or give us a ring.
And if you want to picnic in the Orchard, feel free to bring along your blanket and deck chairs as there are plenty of trees to shade under!
You are welcome to wander through our tranquil gardens also.
During the Fruit Season the weeds get away on us so it can look a wee bit like a jungle at times but still ever so peaceful.
There is a selection of places in town to buy your ice creams, pies, take-aways, sit down meals, etc.
And do check out 103 The Store.
You will not be disappointed!
If you are caught short in town, the Roxburgh Loo Ladies have done us proud. Lovely modern facilities with a living grass wall and a magnificent sculpture created by Bill and Michelle Clarke adorning the entrance.
The new cycle track is also very popular, especially with families biking down to Pinders Pond or further afield.
And if you want to make a weekend of it the accommodation offered in our Valley is of an excellent standard.
If it's a Contemporary Studio Room, Backpackers, Cabin, Motel Unit, Motor Home site, this Valley has it all!
This is Mums 23rd Fruit Season and Ruby and I have been fortunate to have spent our whole lives growing up in this wonderful area.
2 Responses to Fruit Update